DeTec hCG Pregnancy Test Device
CLIA Waived – For in Vitro Diagnostic
For the Early Diagnosis of Pregnancy
A Rapid, Visual, One-Step Test for the Qualitative Detection of Human Chorionic Gonadotropin (hCG) in Urine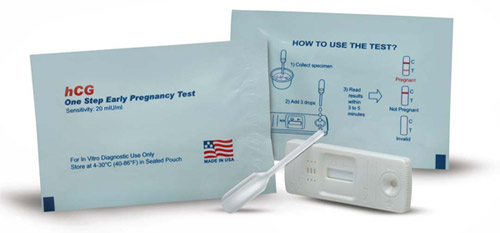 INTENDED USE
DeTec hCG Test Device is a rapid and sensitive immunoassay for the qualitative determination of human chorionic gonadotropin (hCG) in urine. This test kit is intended for the early diagnosis of pregnancy and is CLIA waived.

PRINCIPLES
DeTec hCG Test Device is a colored solid-phase immunoassay for qualitative detection of elevated levels of hCG in urine for the early pregnancy diagnosis. It is based on a sandwich immunometric assay that utilizes a unique combination of monoclonal and polyclonal antibodies to selectively identify hCG with a high degree of sensitivity. hCG test device contains a strip with a sample pad and a membrane area. The former contains mouse anti-hCG monoclonal antibody conjugated with colloid gold. The latter is coated with goat anti-mouse IgG at the control zone and goat anti-hCG antibody at the test zone. During the test, the urine is sucked up through sample pad by capillary action, and hCG in the urine sample binds to the gold conjugate, moving chromatographically toward the membrane. The immobilized goat anti-hCG antibody at the test zone catches the resulting complex, forming an antibody-hCG-gold conjugate complex. The appearance of a purple band in the test zone resulted from the complex shows a positive result, which indicates presence of hCG and suggests a pregnancy. Absence of this band, on the other hand, displays a negative result, i.e. no detectable hCG in the urine sample. The appearance of a purple band in the control zone demonstrates proper performance and validity of the reactive regent.

BENEFITS

• Write-on surface tracks Patient ID, Date and Notation
• Fast: single-step test provides positive results in as little as 3 minutes
• Easy: easy-to-use test with Instructions printed on each kit
• Reliable: highly sensitive assay with built-in control ensures accuracy
• All Tests Come Individually Sealed in Foil Packets
• Made in the U.S.A.
SPECIFICATIONS

• Testing Method: Lateral Flow
• Time to Result: 3 to 5 minutes (urine)
• Sample Type: Urine
• Sample Procedure: Pipette
• Shelf Life: 18 to 24 months
• Cut-off level: 20 mIU/mL (urine)
• Specificity: >99%
• Sensitivity: >99%
• Kit Size: 25 Tests


CLICK HERE for more information