Am I Pregnant Midstream Home Pregnancy Test
For the Early Diagnosis of Pregnancy
A Rapid, Visual, One-Step Test for the Qualitative Detection of Human Chorionic Gonadotropin (hCG) in Urine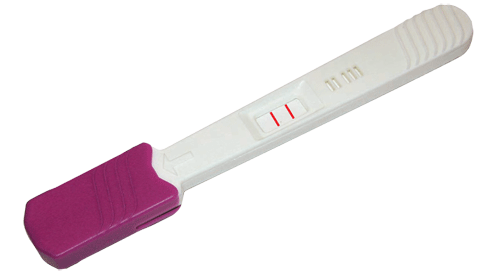 HOW THE TEST WORKS

When a woman becomes pregnant, her body produces a hormone called hCG (human Chorionic Gonadotropin). The secretion of this hormone by the developing placenta begins soon after conception and increases throughout the first trimester.
The Am I Pregnant home pregnancy test is a rapid qualitative test for the determination of hCG in urine. With this test's high sensitivity, pregnancy can be determined as early as 4 days before the onset of the menstrual period.

When a positive result is obtained, you can assume that you are pregnant and should consult your doctor. A negative result indicates the absence of hCG meaning that you are not likely to be pregnant. If the test is negative and five days later menstrual bleeding has still not occurred, repeat the test and consult your physician.

PRODUCT BENEFITS:

• Results 5 days sooner **
• Over 99% accurate at detecting typical hormone levels from day of expected period
• Easy to use and detect results
• Time to Result: 3 - 5 minutes
• 20 m/IU sensitivity
• All Tests Come Individually Sealed in Foil Packets
• Bi-Lingual Retail Packaging for optimal marketing opportunities (English and Spanish)
• Detailed-use instructions in English and Spanish
• Wholesale Packaging Available

PRODUCT SPECIFICATIONS:

• National Brand Equivalent to E.P.T.®™ or First Response®™
• Unit Count: 1 or 3
• Shelf Life: 18 to 24 months
• FDA Cleared and CLIA Waived
• Made in the U.S.A.


**This test can be used as early as 4 days before an expected period. That's 5 days sooner than waiting until a period is missed to test. The amount of pregnancy hormones increases rapidly in early pregnancy. Note that hormone levels may vary. Some pregnant women may not have detectable amounts of the pregnancy hormone in their urine on the day they use the test.
First Response®™ is a registered trademark of Church & Dwight Co., Inc. and Armkel, LLC distributors of First Response.
E.P.T®™ is a registered trademark of Insight Pharmaceuticals.

Retail Packaging

Instructions in English
FAQ's in English
Instructions in Spanish
FAQ's in Spainish